Mini Magic Inductive Car Follows Black Line Magic Toy Car for Kids & Children
100% Brand New and High Quality Premium
Feature: No need to establish pathway, inductive car is designed to follow a route which is drawn by a black marker pen- This car has an optical sensor that can read the black line drawn on a white piece of paper- Treat your kids to a simple magic trick. They will be amazed that the car follows the black lines automatically – Perfect
Material: ABS
Tested and Verified By Experets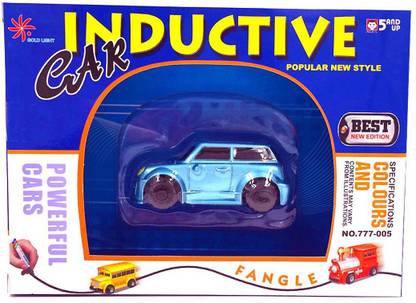 How to Play:
1. Use an ordinary dark colored crayon or marker to draw a line on a white paper.
2. Turn on switch on the car.
3. Place car on top of the drawn line and it will run on the line automatically.
4. If the line finishes, the vehicle will continue in the direction followed from the previous line. It can turn automatically when encountering obstacle.
Feature:
This is a novelty inductive car, which follows the marker line like magic. If you place the Inductive car somewhere else, it would run in circles until it finds the line. The toy has an optical sensor that reads the black line drawn on a white piece of paper. The car is powered by 4 x AG 13 button cell (Included). Marker pen is also included.
Note:
If the line is too thin, the vehicle may stray off the line, please make the line thicker. The line thickness should not under 4mm and not overrun 10mm, Non sharp-angled line.
Package included:
1 x Yellow Inductive Car 1 x Magic Pen 1 x White Paper 4 x AG 13 Button Cell 1 x Instruction Manual