Oilanic Premium Rose Water For Men & Women (100 ml) Men & Women
Rose Water is also known for its health and beauty benefits. You can use rose water to treat acne. Pour it in a bathing water for a luxurious experience and more. This rose water helps rejuvenates and replanish skin. oilanic rose water encapsulates the essence of roses and derives its equity from 'Rose'.
Its benefits on the skin care usage is reflected on your face. Replace water with oilanic Rose Water in your daily skin care, regimen to get a rose – like glow. It is best skin care because it cleanses, it moisturizes your skin, it is good for sensitive skin, it is a natural skin toner, it gives refreshing and cooling effects to your skin.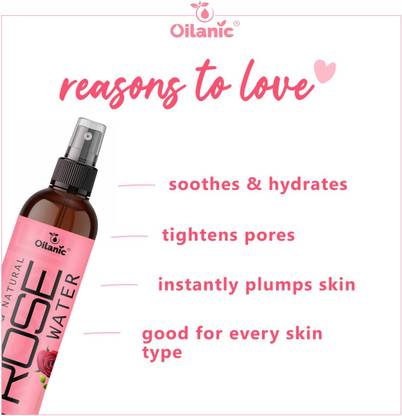 Skin Type: All Skin Types
Applied For: Cleansing
Ideal For: Men & Women
Organic Type: Natural
Paraben Free: Yes