Unbreakable Plastic folding Stool Outdoor & Cafeteria Stool
Made of plastic, durable and for long time use with handle design, It can be folded and stored to save space. Portable and convenient for storage when not in use. Widely using in the pantry, closet or laundry room and more places. Anti-slip function Space saving perfectly sized Sturdy Foldable Light weight STOOL.
Features :
Foldable stool This is straight out safer for your family Sturdy & attractive Great for kids. The lightweight, but sturdy folding step stool is easy to use because it opens with one flip of the hand. kid's foldable stool Is made from the highest quality plastic making it usable for adults as well at the same time.
The main feature is that is foldable and can give you the extra height that you or your kids need. It also features a handle which can be used to carry around the stool whenever needed. Completely designed and engineered from the ground up to be stronger, more stable and store flatter. Further, the anti-skid foot-pads feature holds it securely in place.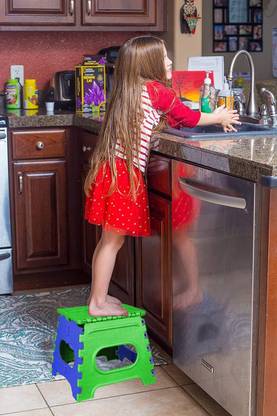 The unique, grip textured surface makes the folding step stool safe for everyone because you're not going to slip off. Compact, lightweight portable Easy carry handle and folds easily for storage Unique stop gap safety feature prevents squashing when folded Great furniture stools for the home, kitchen, bathroom, garden and outdoors Small lightweight makes it truly portable.
Usage Range – The Safety Features Makes This Step Stool Great For Multipurpose Uses i.e. Bathroom, Toilet, Kitchen, Office, Party, Garden, Camping, Fishing, Outdoor And More.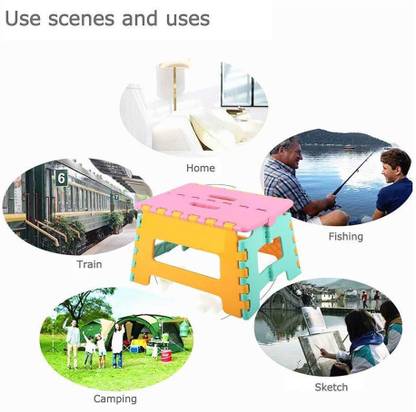 LIGHTWEIGHT AND PORTABLE – A handle makes it easy for your child to pick up and carry to where they want to get to. Folds away for easy storage under the bed or beside a cabinet to be out of the way when not in use.
PERFECT FOR BUILDING KIDS -Confidence and Independence. Whether it's turning on a light, reaching an item of a higher shelf in the nursery, standing at the kitchen bench, in the bathroom brushing their teeth or using the toilet, your toddler will love this step stool. They can even use it as a chair or use it as a table.
NON SLIP GRIP – The feet of the stool will never slip that keeps the stool stable on potentially slippery floors like tiles, wood or vinyl. The top of the stool has wonderful designs for ensuring little feet are stable when on the stool.
Easy to use and carry And fold
Multi purpose stool usable as chair and table. A handle makes it easy to carry that can your child take it out anywhere.

Material: Plastic, Color: Available in 4 colors

Easy to use

Must include this classy fordable and light weight stool in your home style

Sales Package: 1 Folding Stool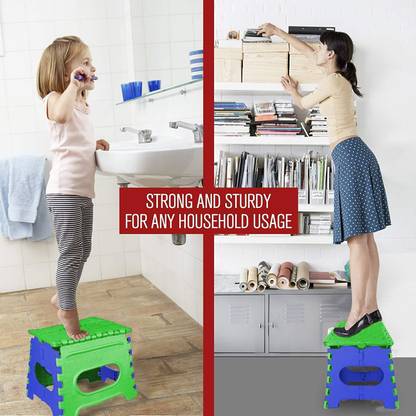 Super Strong Folding Step Stool for Adults and Kids, Kitchen Stepping Stools, Garden Step Stool
Easy Folding For Storage

The lightweight, but sturdy folding step stool is easy to use because it opens with one flip of the hand.

Ergonomic carrying handle allows for easy and comfortable carrying allowing you to take the step stool anywhere.

Great folding step stool for in the kitchen, bathroom, RV's and more.

Unique, grip-dot textured surface makes the folding step stool safe for everyone, including kids